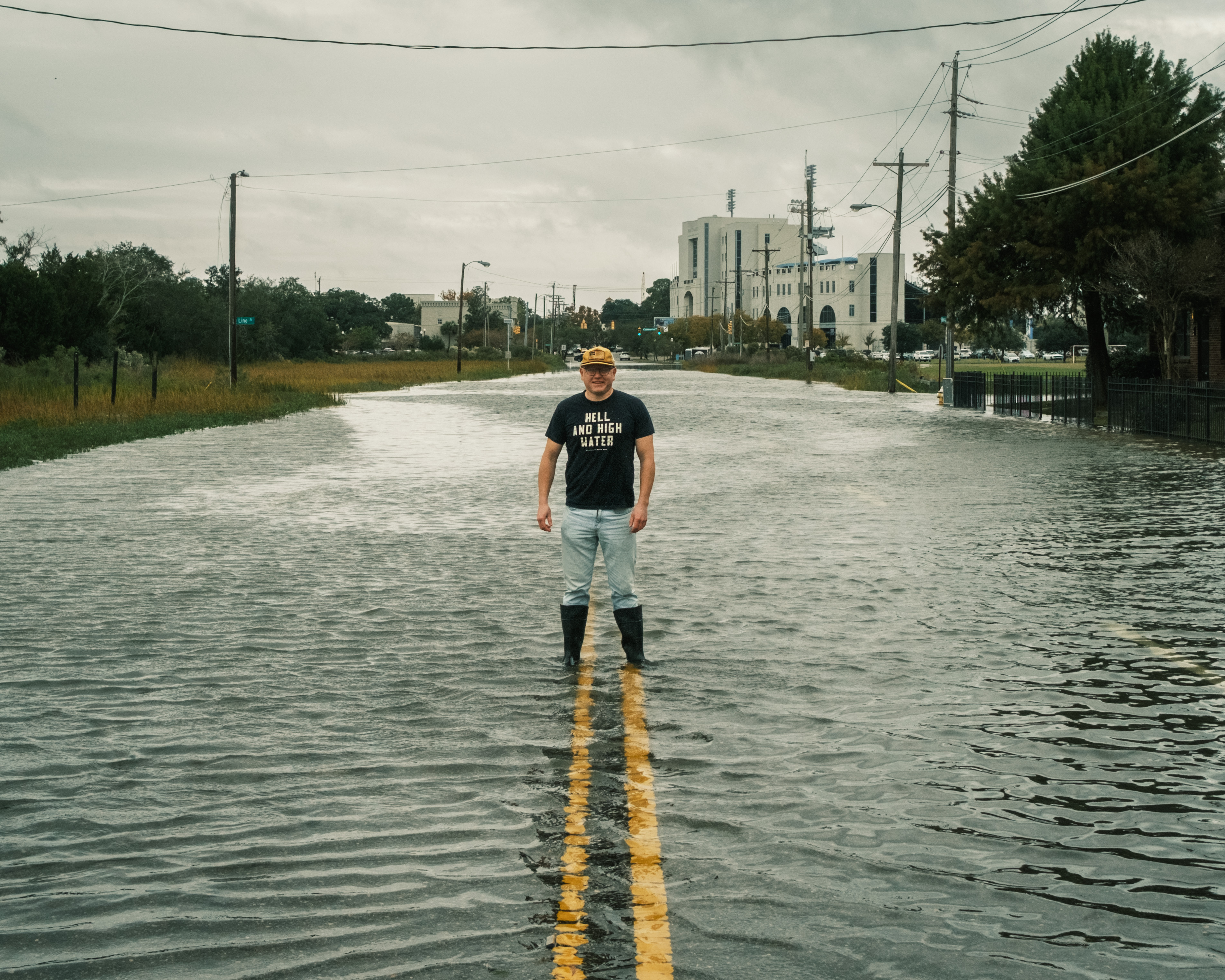 Jared Bramblett
is an photographer and engineer based in
Charleston, SC
.
He received a BS in Civil and Environmental Engineering from the University of South Carolina in 2006. As a Civil Engineer, he works with the design & management of land and infrastructure with a primary focus on stormwater management, flood mitigation, resiliency, and sustainability. He's always been fascinated by the push and pull between us and nature - how we build upon one another. His photographs are often a study of the seams where natural and constructed environments conjoin.
In 2020, Jared launched
Mean High Water
, a project documenting the impacts of sea level rise and flooding in the South Carolina Lowcountry.
Reach out
to inquire about prints, collaborations, or just to say hello.
---
Exhibitions & Features
---
2023 - Daily Dose No. 1773
2023 - Cargo Photo Selections
2021 - The Bitter Southern - Common High Ground - "How Charleston's Artists are Responding to Climate Change"
2021 - Subjectively Objective - 'Investigations In Infrastructure' - "A survey of contemporary photography exploring the infrastructure of our everyday environment."
2021 - Subjectively Objective - 'Everything is Narrative' - "An anthology of contemporary photography exploring the open-ended nature of photographic storytelling."
July - August 2021 - Tidal Futures: Friends of Gadsden Creek - Redux Contemporary Art Center, Charleston, SC
2019 - Cargo Photo Selections
July 2019 - Water, Water Everywhere - Charleston Magazine
Feb/March 2019 - Garden & Gun Magazine - Saving the Small Places
July 2018 - Aint-Bad - What We've Found 'Into the Night"
02/23 - 03/20/2017 - 10 Days West at J. Stark
11/06/2017 - 04/20/2018 - Observing Irma at Lowcounty Local First's Local Works
10/03/2017 - Ongoing - Variable Boundaries at College of Charleston
09/14 - 10/23/2017 - Urbanities at Charleston Music Hall
April - May 2017 - Variable Boundaries exhibited as part of Enough Pie's Awakening V - King Tide. Photographs used in promotional material and videos for month long event raising awareness to sea level rise and climate change.
March - June 2016 - Solo Exhibition at Costa + Williams
June - December 2015 - 'Boroughs & Neighborhoods of Charleston' at Elliotborough Mini Bar, Charleston, SC
05/23 - 06/08/2014 - SPACE, A Center for Photography Art Show, Old City Jail, Charleston, SC
07/13/2013 - 'Loving Hospitatlity' at Awakening, 1600 Meeting St, Charleston, SC
---
Press
---